Isaiah 6:1-4; Revelation 7:9-12
When we worship God our spirits are taken to a special place at God's level.  It enlarges our vision and expands our faith.  When we talk to God, we should be honoring and worshiping Him.  Worship is an expression of love, honor, respect and allegiance unto God.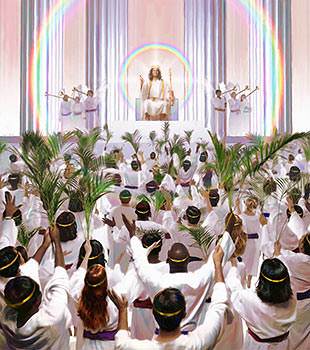 People say they want to see and experience many different things when they get to Heaven.  Surely one of the most awesome audible experiences will be the volumes of praise.  There we will experience the full holiness of God because it will be mingled with praise; those volumes of praise in perfect harmony.  Mortality could not stand the Shekinah glory of God's presence nor the intense praise unto Him.  The very door where Isaiah was, shook at the presence of the Lord.
Consider the majesty of Heaven.  The 24 elders, all the Saints, the Angelic beings, the Redeemed, the harps, the song of praise sung by tens of thousands upon thousands and thousands in perfect harmony…"Worthy is the Lamb that was slain…" and all will be in perfect peace.  Worship brings peace, harmony and happiness.
As preached by Rev. Yohn / 8-24-14 Sun Eve