"Seek ye first" is a definite command from God. We are not to worry or fret about our status in life or temporal things.   We can get so tied up with things of this life. Yes, we must take care of certain things, but do not worry. Worry is doubt and anxious thoughts are distrust in God. Let's not get "puffed up", but let's remember who we are; Our Heavenly Father sits on the throne.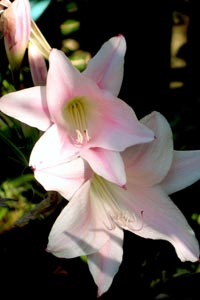 The beauty of the lily has nothing to do with it's own efforts, it comes from the Creator. Solomon could afford to be clothed in all kinds of finery, but still could not compare to the beauty that God gave to the lily. If God clothed the lily and calls it beautiful, how do you think He sees you? If God takes such time to bless and tend the grass that will quickly die away, how much more His care for you? Oh that God would cloth us with His glory!
"O ye of little faith", He did not say no faith. Sometimes we need to let our faith grow so we can receive from God.  As our faith comes through for the small things, we will learn to turn it all over to God.
The Gentiles were the unbelievers of that day and they ran after the earthly things, but God's children are under the covenant promise and God will keep and care for them. He is not under any obligation to keep anyone that is not His child. He is the Good Shepherd and He knows His sheep as individuals. He knows what each of us need, what moves us and what will speak to us.
"Seek ye first", do you want your needs to be met? This is the condition.
Seek first:
For your own soul / your spiritual depth (You are responsible for your own soul. Check your heart everyday and grow in Him.)

For the spiritual condition and souls of others (To  encourage them and enhance the Kingdom of God)
Those things that are the most important to God, are supposed to be the most important to us. The things of this life will pass away, don't let it take away your time with God and seeking The Word. Life gets full and messy. We have to make sure we are not a part of that group that is falling away. Remember today and your standing with God today. That is the most important thing.
One day vandals broke into a jewelery store, but they didn't steal anything. They just switched the price tags all around and left. When the employees came in for work, they couldn't tell the expensive pieces apart from the costume jewelery. People that never thought they could have anything expensive, were walking out of the store with treasures and those that really thought they had something, were walking out with junk. Sometimes that is how it is with us. satan comes and twists things all around and we leave the store, so to speak, with what we think is a shiny treasure; that promotion or pay raise we've worked so hard for,… what ever that bright shining jewel may be that hinders our walk with Christ, is actually junk. While all along Jesus is standing there saying, "I'm the real treasure".
"Seek ye first". Don't live this life for yourself. Sometimes that is why people are so needy. They don't put the Kingdom of God first. Keep eternity in view and all these things will be added unto you.
Rev. Patti Hoover / 9-10-14 Wed